It's time for my bi-monthly movie post, yay! These are the best movies I've seen in July and August, I watch about a movie every other day or so. I love doing these and chatting with you guys about movies. I have a lot to recommend from these last couple months, so I'm splitting this into two posts so it's not one HUGE one. Regular makeup posting will resume tomorrow :) I got my Concrete Minerals primer approximately 2 seconds after I ordered it (they are so amazingly fast!), so I have a couple reviews I can now finish off the swatches for. And I can do some eye makeup tomorrow, finally! Anyway, on to the movies :)
Inception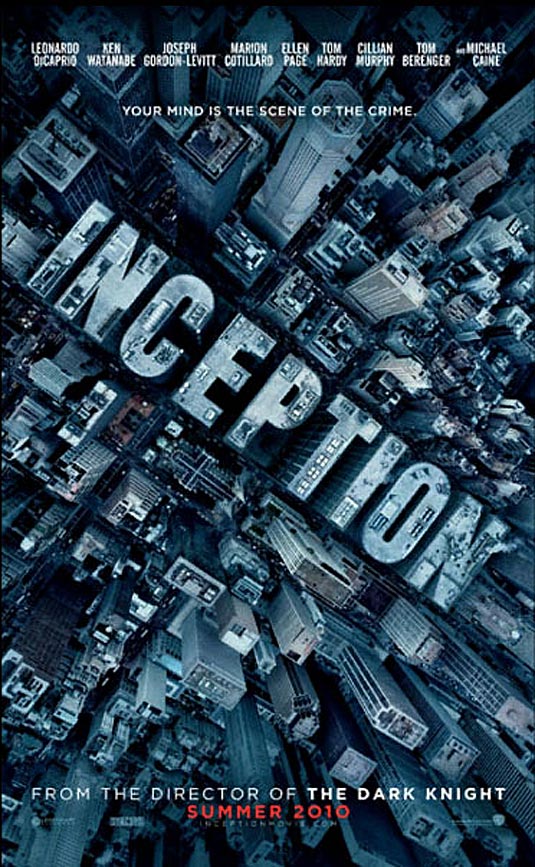 I thought I'd start with Inception since I'm sure everyone's heard of it. What's not to like here- Ellen Page Leonardo DeCaprio, and Joseph Gordon-Levitt? I heard a term describing it that I thought fit perfectly- "modern masterpiece".
Let the Right One In
This was so good, a shitty American remake is already being made, just 2 years after its release. I wouldn't call this a horror movie, which is what it is usually called, I would say it's a drama involving children, one of whom just happens to be a vampire! It's very touching, and I loved it.
Last House on the Left
I know it's considered trashy and gross to a lot of people, but I actually loved it. I watched it right after the original, which was ok, but to me this was way more effective. It was believable, suspenseful, and scary. If you're a horror fan and you haven't seen this yet, check it out.
The Disappearance of Alice Creed
This was already out in the UK, I think. I rented it from On-Demand, I'm not sure if it's on DVD yet. I thought it was a really great thriller with a lot of twists, and it's really unique in that it only has three characters throughout the whole movie. Try checking your On Demand and see if it's available!
Spendor in the Grass
This is the only classic I've got for you, sorry! This film is AMAZING, I think every teenager, or even every person, should watch it. It is so powerful and sad, I was completely absorbed the whole time. It kind of reminds of me of The Last Picture show, because it deals with lots of the same types of issues and was probably somewhat racy when it was released. There's no way to describe how amazing this movie is, you just have to see it for yourself.
The Girl with the Dragon Tattoo
Another movie that gets really hyped up! It's well worth the hype. It's a really engrossing mystery/thriller, and I just love the character Lisbeth, she's so cool. The second one is out at the art theater where I live, so I really want to see that, and read the books.
Candyman
DON'T LAUGH AT ME UNTIL YOU'VE SEEN IT! This was a movie a lot of people my age were traumatized by when they were little, so I had to see it. I'm not going to lie, it scared the crap out of me. You can't pay me to say Candyman 5 times in front of a mirror. Someone on IMDB called this an "adult horror film", and I agree. Not adult as in XXX, but it's smarter and has a more sensible plot than most scary movies.